Arsenal (GBP)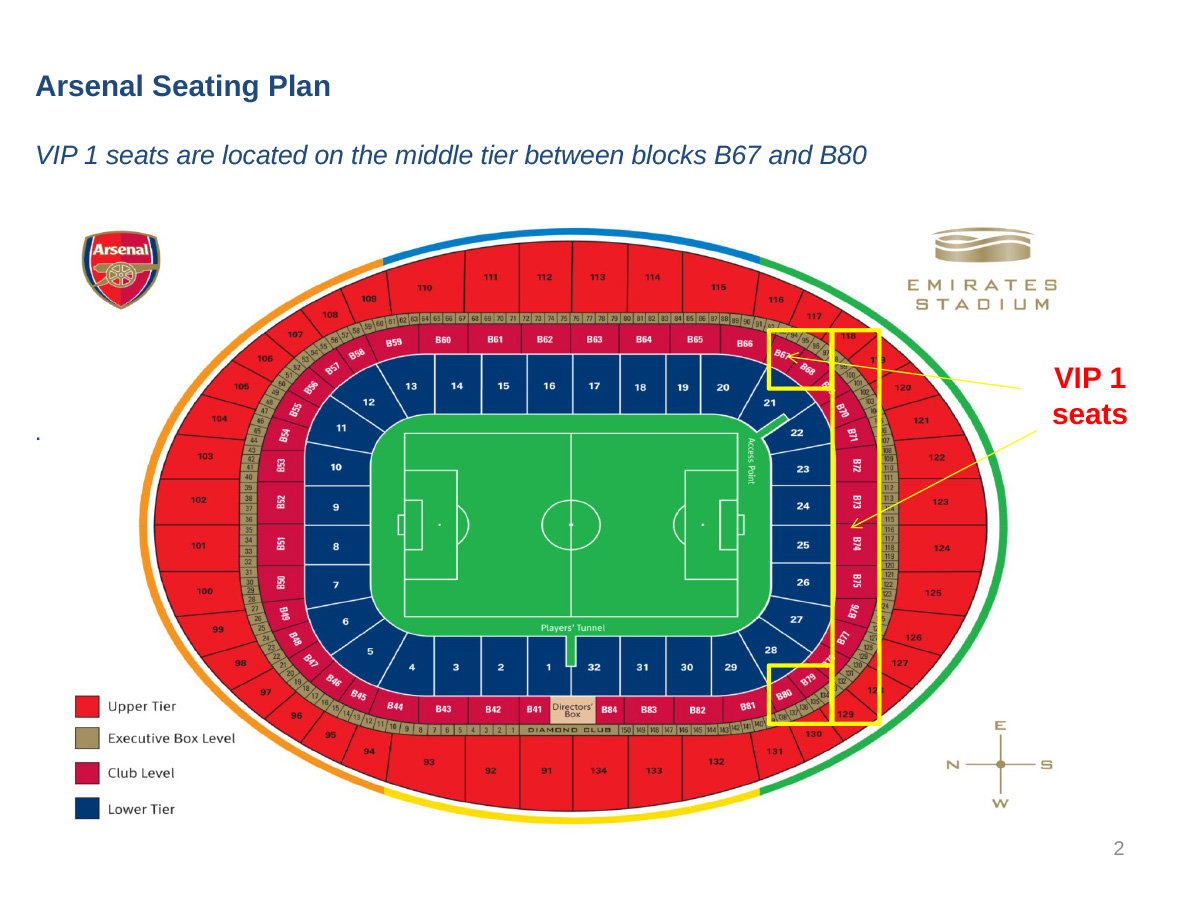 VIP 1 package includes
Executive padded club level seating on the stadium second tier

Access to a lounge in the stadium prior to the match

One course pre match food and one complimentary drink available from the lounge menu

Complimentary half time beer, wine or soft drink in the lounge

Access to a lounge after the match where drink can be purchased

Complimentary stadium tour and museum voucher
3* Holiday Inn Hammersmith
Holiday Inn Express London Hammersmith is in a great location in West London, within Zone 2 of the Underground network and within easy reach of world-class shopping, entertainment and tourist districts.
The Tube station is just a 10 minute walk from the hotel and provides direct connections throughout London and west to Heathrow Airport.
4* Holiday Inn Bloomsbury
Opt for the modern and central Holiday Inn London-Bloomsbury hotel, set in a quiet street near Russell Square Tube station.
Holiday Inn London-Bloomsbury is just 2 minutes' walk from the Tube at Russell Square station, for speedy connections across the capital.
You can splash the cash on London's famous shop-lined Oxford Street or walk around and see the sights !!
4* Holiday Inn Kensington Forum
The hotel is perfectly situated in one of London's most exclusive areas, South Kensington. Just 2 minutes walk from Gloucester road tube station, the hotel is ideally situated for reaching London's top attractions.
Part of the recent HI re-launch, a pillow menu is provided along with a curved shower rail, ensuring a more spacious feel
4* Hilton London Euston
Set in an ideal location, just moments from the Eurostar terminal and a short walk into the heart of the city, the Hilton London Euston hotel is the perfect base no matter what brings you to London.
The Hilton London Euston hotel is situated close to some of London's areas, including Regent's Park to the West, Camden Market to the North, and Covent Garden to the South.
Package Notes
Match dates and kick off times are subject to change due to TV commitments, please ensure that clients have flexibility in travel plans in the event that match is moved for TV scheduling purposes.

The main TV times are 12.45pm Saturday, 5,30pm Saturday, 1.30pm Sunday, 4pm Sunday, 8pm Monday
In the event of a fixture postponement or match moved due to TV scheduling tickets and hotel will be valid for the rearranged fixture date and kick off time. No refunds can be provided.
Tickets are sold within a specific stadium area but block & seat numbers cannot be provided at time of booking
All costs include UK VAT
1.若賽事因任何原因導致延期或更改時間,酒店及門票將自動更改至賽事重新安排的日期和時間,恕不退款。
2.由於本公司只屬代理性質,一經付款訂位, 任何情況恕不退還。遇有球賽取消、門票退款等特別情況, 將按照當地相關供應商之條款及安排為準。
**For the 2023/24 season, all packages are sent as electronic tickets
***Tickets will be E-mailed across around 3-5 days before the match
其他優惠:
1) 購買藍十字旅遊保險75折

2) 購買任何歐洲機票減港幣$100